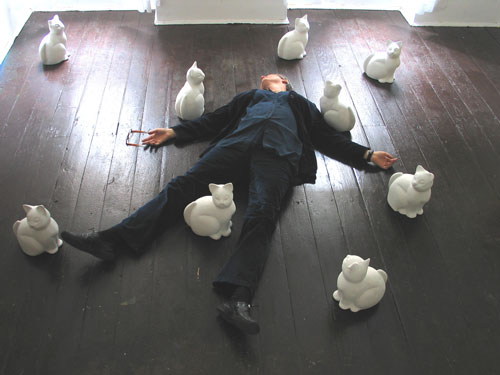 'You are alive, love'. Plaster cats. 2004
Fabiola Faidiga was born in Trieste (Italy) where she lives and works.
She collaborates with 'Group 78' International Contemporary Art and has participated in projects curated by the Italian art critic Maria Campitelli. These include Lavoro d'ufficio (Office Work), Il viaggio (The Travel), Le madri al mare (Mothers at the Sea), Gli immortali e il dialogo sull'acqua (The Immortals and the Dialogue on the Water)and La misura è colma (That's the last straw!).
She has worked in various media including photography, video, sculpture, performance and collage. She has taken part in solo and group exhibitions including the Palazzo Costanzi (Trieste), Galleria Juliet (Trieste), Palazzo Bricherasio (Torino), Art in Perpetuity Trust Gallery (London).
Contact : fabiolafaidiga@libero.it
Work on view at Primavera :
'Ci conosciamo da sempre - We have known each other for ever'

Foto 1

Foto 2

Foto 3