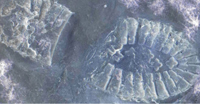 B r u s s e l s > L o n d o n
L o n d o n > B r u s s e l s
'Terre à Terre' is an exchange exhibition between artists in Brussels and London. In October six Belgian artists will be showing work at the artist-run A.P.T. Gallery in Deptford. In November five British artists will show work at two galleries in Brussels.
This exchange came about via the Internet. London based organisation A2 Arts asked the British Council in Brussels if they could find an equivalent group of artists with access to a gallery - 'Terre à Terre' is the result. Taking two years to organise, the exhibitions coincide with the European 'City of Culture 2000', of which Brussels is one of the participating cities.
Please click on the gallery name for information about that particular venue. Click on the artists names for further artist information.
Supported by :
City of Brussels

The British Council

Tension

Abel Joseph Gallery

Ministère de la
Communauté
française

The London Institute

Wimbldon School of Art
Website and London production by A2 Arts