Terre à Terre
Abel Joseph Gallery

89, avenue Maréchal Foch
B - 1030 Bruxelles
(02) 245 2282
| | | | |
| --- | --- | --- | --- |
| A r t i s t s : | C h r i s M a r s h a l l | I n s t a l l a t i o n | more |
| | L i z H a r r i s o n | I n s t a l l a t i o n | more |
Exhibition opens :

Opening hours :
Wednesday, Thursday and Friday from 11 am to 6 pm
Saturday from 1 pm to 6 pm

Heures d'ouvertures :
les mercredi, jeudi et vendredi de 11h ŕ 18h
le samedi de 13h ŕ 18h

Open op woensdag, dinsdag en vrijdag van 11 tot 18u. Zaterdag van 13 tot 18u.

1.11.2000 to 25.11.2000

Vernissage :

31.10.2000 from 6.00 -9.00 p.m.

We are here
About Abel Joseph Gallery
The Abel Joseph Gallery opened in 1989 in Chicago, Illinois in the small neighbourhood known as Wicker Park. With a strong interest in contemporary art and working with younger artists, the gallery's direction was opened up to all forms of expression whether it be painting, sculpture, photography, installation or other site specific works. The emphasis of the gallery has always been first on the quality and intent of an artists' work, albeit notions that are subjective for some. It has tried to maintain however, a level of interest and consistency in the exhibitions shown not only for the viewer but for the artist as well.
The gallery moved to Paris in the fall of 1992 and created a non-for-profit organisation with the goal to exchange European artists with American in an attempt to bring a deserved recognition to their works. After four successful years in Paris, the gallery decided to again reach new frontiers by moving to Brussels, Belgium in 1996.
Chris Marshall filling with red wine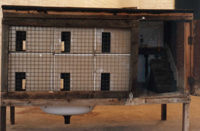 Liz Harrison : Rabbit Hutches
Review of Terre à Terre in 'La Libre Culture' 22nd November 2000 by Claude Lorent. Translation from the French by Elizabeth Malone
"Reciprocity : As part of an exchange, five British visual artists were showing at two premises in Brussels.
During the month of October, 6 visual artists from Brussels, four of whom were Belgian, had been invited to London as part of an exchange program with 'La maison de l'art actuel des Charteux'. Therefore, this gallery and another in Brussels received some artistes from the UK in return. It was an occasion to discover the plastic propositions from the British artists, who without having an internationally renowned reputation already possess great credentials. This is an example of how 'Terre ŕ Terre establishes it's contacts.
Nicola Rae took the theme of the exhibition to the letter as she collected many various coloured soils in the course of her travels and turned them into eventful and subtle pictures, which were constituted of strata, as if acting close to a core sample.
Mickey Dell, when she is not putting trees top to bottom, asks the visitors to discover the three-dimensional effect of a foreign countryside.
Paul Malone asks us to wear the blue and red glasses in visiting an underground world, from where rises up simple and also bizarre forms of occasionally erected sculptures. The popular fantasy of which does not save us at all from his cut up transparent Plexiglas forms, his blue galaxies and bursts of mercury.
At the 'Abel Joseph Gallery' Chris Marshall mounts on the wall, in densely packed alignments, tubes of glass filled with red wine, forming, in relief, a fragile translucency on which shadows and lights act as fleeting ephemeral elements. California wine has never looked so good !
As for Liz Harrison, she presents wooden buildings with windows. Inside each of these is a little video screen showing rabbits. These are indeed good rabbit hutches, though the architecture and the dimensions do not really correspond - behind a window is a staircase. On the wall, is a colour photograph, taken somewhere in London, of the entrance to a block of council flats. The question is why is this metaphor for uncomfortable-ness presented on such a grey / gloomy bed? Could it be in treatment for some nondescript illness? Perhaps mental? This is a typical disturbing piece of work. Between the images, imaginary and questioning, these English artists, some of them conceptual, travel between dreams and reality."